500 projects will be realized in 50 venues: The countdown has begun for the 17th Istanbul Biennial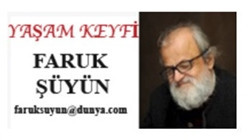 Organized by the Istanbul Foundation for Culture and Arts (İKSV) with the support of Koç Holding, the sponsor of the 2007-2026 Biennial, the 17th Istanbul Biennial opens on 17 September. Curated by Ute Meta Bauer, Amar Kanwar and David Teh, the biennial can be visited free of charge until 20 November. 500 artists, thinkers, writers, poets, researchers, architects, radio programmers, fishermen, activists, stand-up comedians, conductors, ethnomusicologists, ornithologists, marine scientists, puppeteers, musicians and many more, participated in the 17th Istanbul Biennial. More than 1,000 participants will contribute by working individually or collectively with local communities.
The Istanbul Biennial will meet the audience at 12 exhibition venues in Beyoğlu, Kadıköy, Fatih and Zeytinburnu, as well as over 50 bookstores, second-hand booksellers, hospitals, nursing homes, cafes, metro stops and a radio station all over the city.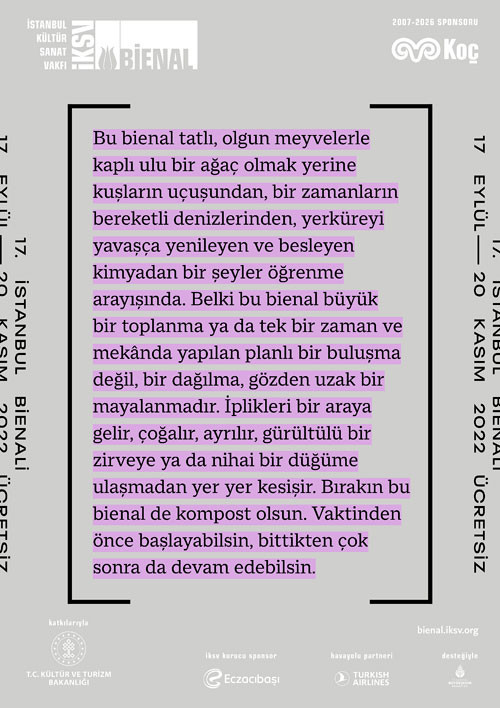 What does the biennial aim for?
The biennial aims to be a meeting point that nurtures and strengthens interaction and aims to produce long-term impact. "Can the biennial be a newspaper? Could it be a redesigned archive? Can there be a sea of ​​senses flowing through everyone like water? Could it be a meeting where insights from ancient songs, birds, grasses, fish, buffaloes are shared?" The 17th Istanbul Biennial, which brings together more than 50 projects, each of which is the fruit of long-term research and cooperation, will be an invitation to spend time together, think, talk, listen, read, watch, ask questions and seek answers.
Where are the exhibits
Concentrating on the Beyoğlu, Fatih and Kadıköy districts of the Istanbul Biennial, the exhibition areas will stand out not only as venues, but also through the neighborhoods they are located in and the relationship they establish with those neighborhoods. Biennial exhibitions include a calligraphy and binding workshop, a 16th-century Turkish bath by Mimar Sinan, a Greek school that has not been used for more than twenty years, the subway tunnel under Taksim Square, and a herb garden, in addition to traditional museum and exhibition spaces. will be spread over 12 venues, many of which will be used as exhibition venues for the first time as part of the biennial.
The Istanbul Biennial will meet with Istanbulites in public spaces with open-air performances in different parts of the city, together with more than 50 collaborative venues.
What awaits visitors?
The biennial will tell stories from different geographies and time periods on many topics from gastronomy to ecology, from literature to food security, from migrations and immigration to marine life.
Besides free exhibitions, the biennial will also include various open-air shows, performances, meetups, talks and film screenings. Events, interventions and unexpected encounters will be part of the exhibition. Biennial audiences will encounter many different projects from poetry readings to magazine promotions, from festivals to film screenings and podcast recordings, from special issues of speculative publications to garden tours, from storytelling to social research, from protest demonstrations to a print workshop, from puppet shows to a library of harbor sounds.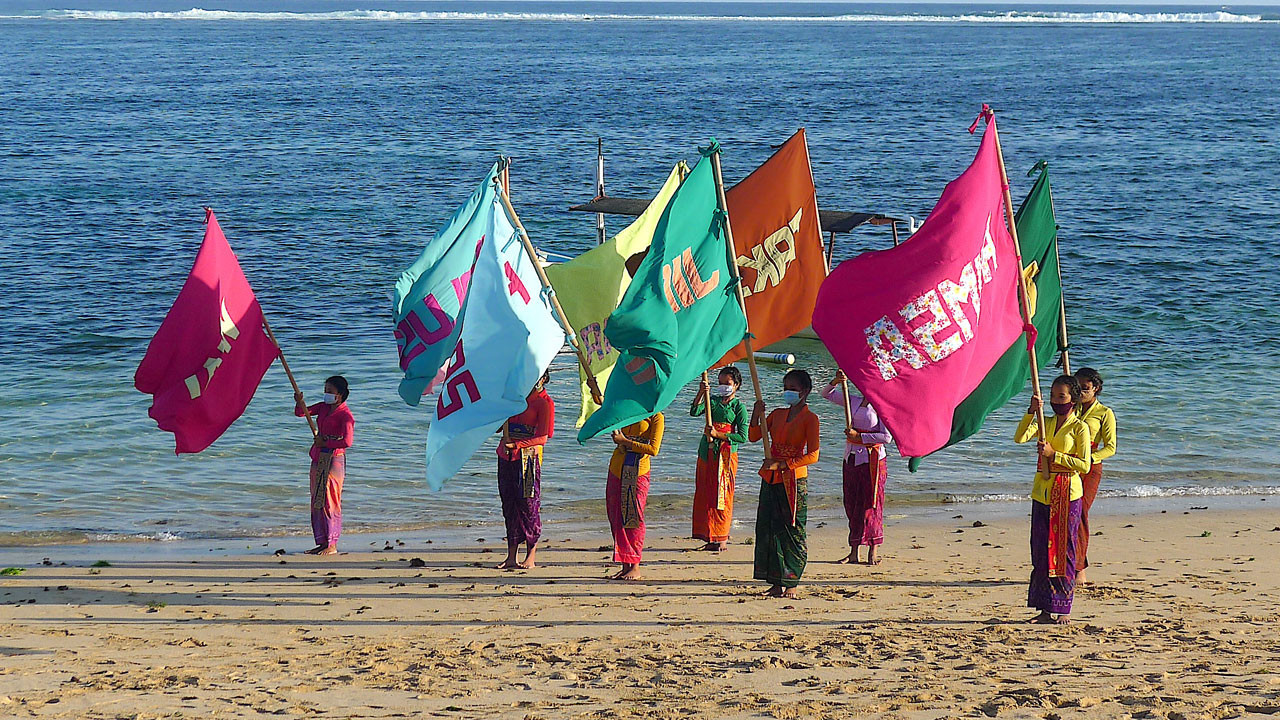 Poetry Line
The 17th Istanbul Biennial, which aims to meet the audience in different ways in addition to the existing exhibition venues, is getting ready to spread to the city with the Poetry Line project carried out under the consultancy of Süreyyya Evren. Nearly 200 new poems written by 15 poets throughout 2021 upon the invitation of the Istanbul Biennial will be accessible through various digital and physical channels during the biennial.