70% shares of Göztepe A.Ş were transferred to Sport Republic
Mehmet Sepil, who left the presidency in Göztepe, the Danish Rasmus Ankersen, one of the founding partners of Sport Republic, and Henrik Kraft, the president of Sport Republic, attended the meeting held due to the share transfer at Gürsel Aksel Stadium.
Mehmet Sepil, in his speech here, said that they renewed Göztepe with the agreement and that they experienced great happiness and pride.
He stated that Rasmus Ankersen went down in history as Turkey's first foreign president. Expressing that they will create a new Göztepe under the presidency of Rasmus, Sepil said:
"Our first foreign player was John Nielsen. He was also a very popular Danish player. He was the only foreign player of our legendary squad. Our fates with the Danes intersected from those days. Now we are together with Rasmus and Henrik. A new beginning for us. Göztepe has proven itself. A club that has many fans in Turkey and Izmir and is respected by the masses. We will take Göztepe to new levels. We have always swam against the waves. Now we, as Göztepe, will walk with the wave. We will take Göztepe, which we missed, in the 1970s. We will rebuild a successful club, we will do it together. Göztepe is a very important community. There were many interested investors.
Rasmus came to Turkey with the director of Southampton. In Torbalı Pancar, they went together to the land where the academy would be built. With this behavior, they gave the most important sign about the future of Göztepe. We are creating a new Göztepe, we are forming a new team. We will have friends in charge of football. We had decided that all transfers and decisions about the players would be taken by them. I am sure that we will use the new beginning well with all our fans and our community."
"I will manage the amateur branches"
Emphasizing that he will continue to support the club in this process, Sepil said:
"My job is still not over here. I will continue, but I will continue without being involved in football. After having an unsuccessful season last year, many of my businessman friends came out. They said they would reach me and help. Now we will create a Göztepe that integrates with Sport Republic and its fans. We are completely renovating the stores. New "We are establishing a foundation. In this foundation, the existing associations supporting Göztepe will contribute in a way that will be most beneficial. I will manage the amateur branches. We will separate football and other branches as the sports law allows. I am very happy. We have taken a very good partner with us."
"Rasmus is one of the most successful and innovative sports directors"
Henrik Kraft said that they were very excited about the project they signed.
Expressing that they are very happy for investing in Göztepe Sports Club, Kraft said:
"We had a long way to go. We spent a lot of time here. I invest in a technology and telecom company. We met with Rasmus 5 years ago and became friends. We made investments together. Most of them were football-focused investments. Rasmus' enthusiasm for football passed to me as well. He came to me about founding Sport Republic years ago and we started. We started a unique and innovative company. We started a company that focused more on football club structure. Rasmus had books about football and leagues. He played for FC Midtjylland. They won cups and championships. "They made it to the Champions League. He made it to the Premier League with Brenford in England. Rasmus is one of the most successful and innovative sporting directors."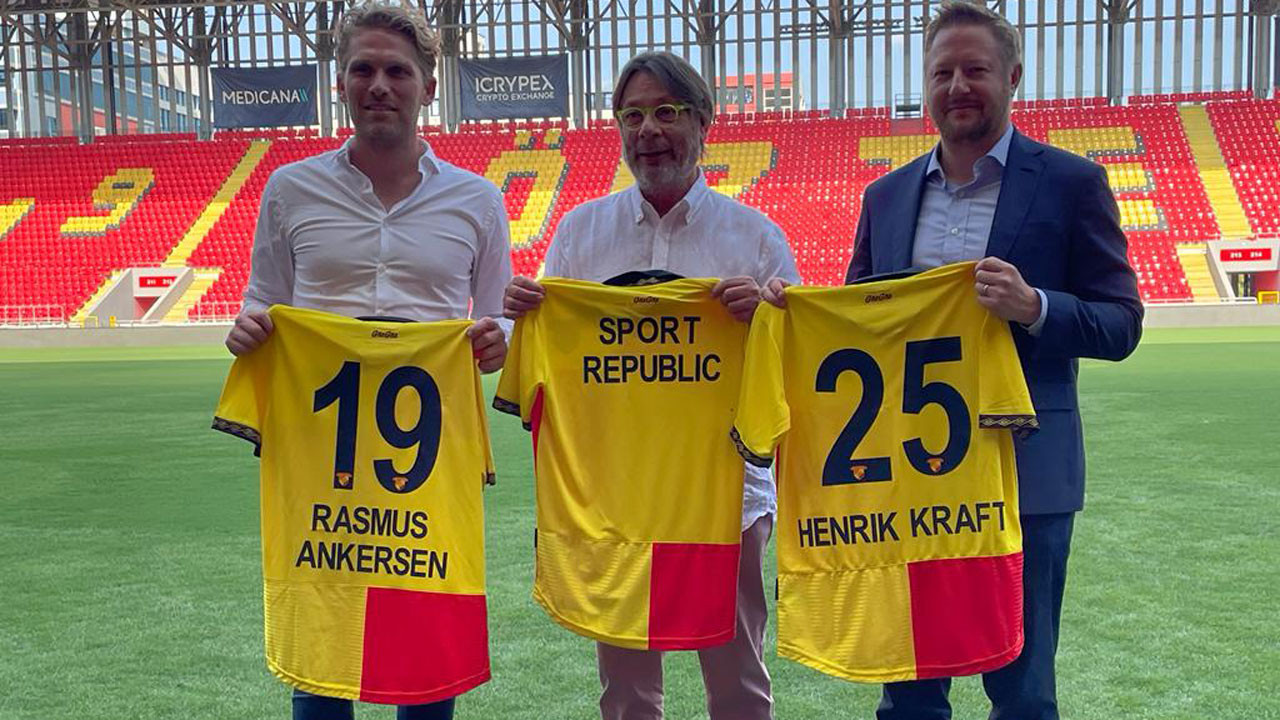 "We know that 80 million are crazy about football"
Rasmus Ankersen also stated that they witnessed a historical moment and said that the passion for football in Turkey caught his attention.
Expressing that he was very happy and excited, Ankersen said, "I visited İzmir, visited the facilities, toured the stadium. Mr. Mehmet (Sepil) hosted me and I felt that there was something special here. A really tough job will begin. Your passion for football in Turkey is of great interest to us. "Göztepe is the team of a big city, it has different aspects. We are in a big city, the fans are passionate, there is a great stadium and there is a great education in the academy. We are in this potential. We came to reveal the unfulfilled potential." he said.
Mentioning that there is a population of more than 80 million in Turkey and the importance of football in Turkey, Ankersen continued his words as follows:
"We know that 80 million people are crazy about football. A successful step must be taken in the right direction. Investment in football will also go forward. We saw this potential and this excited us. We have an important partner like Mr. Mehmet. We are not here every day, we have a partner like him. "We are very ambitious, we will take the club to a new level. When we look at the next 10 years, the general success will come, but gradually. We want to develop the club and we want to move Göztepe to the Super League in a short time. Not only a success in one season, but also in successive seasons. "Our goal is to become a player. There is a very competitive environment in the transfer. It will be exciting for us to watch the season."
"The European arena seems far away for now, but we have to be patient"
Ankersen stated that they think Göztepe is not in the place it deserves and said:
"We're going to sweat a lot, but we know that this place is worth being a big club. One day Göztepe will be in Europe, but we have to wait a bit for that. We are in the TFF 1st League right now. We have to wait a bit for the goals. To create a regular environment before we reach a place. We will work hard to do this. When we get to the Super League, we will move on to the next stage. The European arena seems far away for now, but we have to be patient."
Expressing that he lives in London but will come to İzmir frequently from now on, Ankersen added that they will announce Göztepe's sporting director tomorrow.