Akşener: We are in a very funny situation today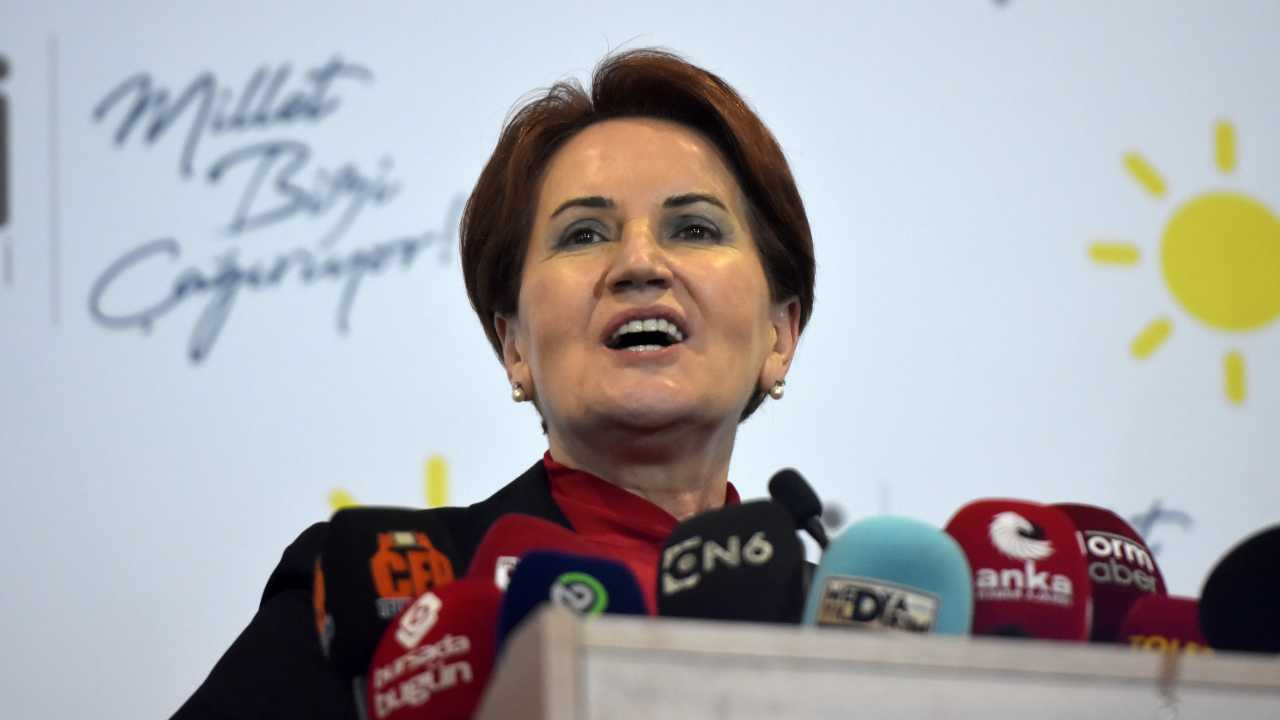 In her speech at the "Economy Liberation Plan" meeting held by her party at the Hilton Bosphorus Hotel, IYI Party Chairman Meral Akşener stated that every economic program is a reflection of a political understanding and worldview.
"What would each and every one of us be talking about today, August 18, 2022, if the GOOD Party had never been formed?" Akşener said, "If we have gathered here today to talk and listen to an economic program and the economic programs announced by other opposition parties, if these can be done now and if there is hope, if there is excitement, 'We can do it, we can.' If we say that the first milestone of this is the establishment of the IYI Party. If this is ignored and a point of view is put forward, it would be a great injustice to our friends and members of the IYI Party who suffered a lot and showed great will at that time." he said.
Pointing out that "walking the road through commons" is their first priority regardless of their opinion, Akşener made the following assessments:
"All political parties in the opposition or in power and their voters are very valuable. We do not have a problem there. But if the IYI Party had not been established, what would we be talking about today within the concept of opposition? We believe that this right, this law, this respect should be shown to the IYI Party members. We did one more thing. In Turkey, there is a very dirty language, where a ball of wool is constantly thrown. A ball of wool is thrown at the opposition, just like cats. It is also GOOD that reduces the number of wool balls and prevents opposition to those wool balls. "It's a party. What do I mean? We, my friends and I, visited all the cities and over 900 districts of Turkey one by one in two and a half years. It was a very interesting journey. Some of you traveled with us, they went on those trips. The change between the beginning and the end." Our friends, with whom we traveled together, witnessed the evolution, especially from the press."
"They are arguing in your name"
Meral Akşener said, "For a very long time, voters have had owners. Politicians shopkeepers…"
"Whether it is based on belongings, beliefs or something else. I see that the voters have owners. They are snooping on your name. There is no such thing. However, the electorate is the benefactor. The voter makes the politicians compete on the solutions to their own problems and decides on one. Deciding on someone else. You cannot discuss the attitude of the voters. It was made with free will. You can discuss everything in democracies, but you cannot discuss the outcome of the game thrown with free will. 'Why didn't you choose me, brother?' As a politician, you will find it in yourself. The voter makes a decision and says, 'You will be the power. He also says to those in opposition like us, 'You have time, will you be my lawyer?' For years, politics was based on this understanding, and then suddenly, like we were in the Stone Age, where there were enemies, sometimes even dinosaurs, everyone asked each other, 'What is this?' It evolved into the language he looked at, accused of missing the thread and, in a very interesting way, of choosing."
Akşener stated that the Great Leader Mustafa Kemal Atatürk attaches importance to the concept of "individual development". Explaining that the results of the industrial revolution and mechanization settled in that period, Akşener continued as follows:
"There was a constant war, people are trying to survive. You have to feed the hungry and clothe the naked. Under the conditions of that day, a political leader emerges in Anatolia. He presents the development of the individual as a vision. For example, there was no concept of innovation in those years. I can't help but mention it. Our teacher Erol Güngör does not say the name of innovation, but he describes everything about innovation as a description. Now, when we look at all those who follow Atatürk and the next vision, it is really centuries ahead. What is the situation today? We are in a very funny situation today. "Everything is in one person. God forbid. In a country where one person decides everything, neither democracy, rule of law, nor justice is in question, nor is there a rational, realistic, interest-based, interest-based, mutually beneficial foreign policy between countries. It becomes a form of relations based on respect."
After Akşener's speech, IYI Party Economic Policy President Prof. Dr. Bilge Yılmaz presented the "Action Plan for Economic Stability and Inclusive Growth".