Can creative industries be the new model of development?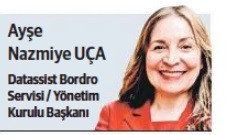 ▶Hello, today we are going to talk about a little-known, little-spoken area; Creative Industries. Our guest is Nurten Meriçer, Creative Producer of ReHub. Welcome.
We enjoyed it, thank you.
▶First of all, what does 'Creative Producer' mean, is it something new or a rethinking of old things?
These creative industries concepts can be considered new to all of us, but when we look at the sub-sectors, we know most of them: advertising, architecture, crafts, design, film & video & photography, music, visual arts and performing arts, publishing, fashion, software and computer services, digital games, such as museums and cultural heritage, radio & television. There is the NACE code standard to describe each sector. NACE codes are defined according to a source or a production process on which that industry is based. Like woodworking and forestry. While defining the Creative Industries, it is taken as a basis that 'intellectual property' lies at the basis of production and trade in all of these sectors. Advertising and architecture are industries that have existed for many years. These sectors are now covered in the creative industries class. The creative labor of the architect was inside the building he used to build. Now it is possible to separate, price and trade as a value in itself. Advertising, on the other hand, was previously under the service sector, but we no longer classify a commercial as a service, as it has a value on its own, independent of the product it sells.
▶We know the NACE code only in terms of human resources, tax and social security. So, is there a NACE code for the creative industries in Turkey?
Of course, NACE is already an international definition. Although the sub-breakdowns differ on the basis of country or region, the main sectors are the ones we mentioned above. As the United Nations Trade and Development Organization deals with the creative industries, this area has become more clearly defined and as a result, a parliament called the Creative Industries Assembly was established under this title of the Union of Chambers and Commodity Exchanges of Turkey, and reached a status that could influence lawmakers. .
"Creative Industries is very egalitarian"
▶Creative Industries can be an opportunity for Turkey. Because we are not in an international race, we have a smart and skillful structure. The problem with these is that they continue in the traditional way and are not tied to a national or international structure.
This exit of the creative industries is heavily dependent on digitization. In other words, 2021 has been declared as the Creative Economy Year by the United Nations. Currently, creative industries and development models have an important place in the strategies created for 2030. This is because the creative industries are so egalitarian. There's a chance that the next Netflix or the next Spotify will come out of Madagascar. Because for this, there is no need for large land, weather and water conditions, capital, and large investments. Very egalitarian. So an idea can pop up anywhere in the world. In today's communication and global world conditions, this idea is now very easily accessible to the whole world. A song held by a shepherd on the mountain in the Himalayas today can be heard in Venezuela tomorrow. In other words, with the disappearance of the limits of reaching these global markets, the creative industries have become one of the ways of regional development.
"A good human education is enough."
▶This is also an opportunity for disadvantaged groups, especially women and youth, to find jobs and create jobs for them. Are there any examples of this in Turkey?
These opportunities abound in creative industries, which are very much linked to traditional fields. The only minimum requirement is a good human education. You can progress very quickly in terms of job opportunities and creating employment. You don't have to wait for years. The development of underdeveloped countries can be achieved through the consumption of some natural resources. Creative industries don't need any of this.
"Our microfinance aunt's bracelets"
▶There needs to be a fund, a platform or a micro-credit system for the creative sectors. Unfortunately, such a system does not exist in Turkey. Why do you think no one is heading into this field?
Angel investors, rather than microfinance, are a little more effective in these creative areas. Because they are more open to working with ideas. That's why I find angel investors or open-minded finance sources more supportive in creative industries rather than microfinance. You know that microfinance is always 'my aunt's bracelets' in Turkey. It should not be neglected. Behind any serious investment, there is a 'sister's usness'. As micro enterprises and SMEs are in the majority due to the structure of this sector, clusters are very important in terms of accessing finance and markets. For this reason, the projects carried out by our Ministry of Industry lead the sector. Within the scope of the 5 projects currently being carried out, significant support will be provided to individuals and businesses working in the creative industries. In this context, two creative industry centers will be established in Istanbul, and one each in Izmir, Ankara and Kütahya. The first center in Istanbul is currently being established in the field of industrial design under the leadership of the Istanbul Chamber of Industry, within the framework of the IDEA4Istanbul project. In second place is Create in İzmir, which is led by İzmir University of Economics. The digital center to be established under this title aims to support SMEs from the Game, Software, Film and Design sectors. Kadir Has University Creative Industries Platform to be established in Istanbul will provide support to small businesses working in the fields of film, video and television in both production and distribution. Kütahya has been included in the UNESCO Creative Cities Network since 2019. The center to be established here will serve the creative industries in the region in order to strengthen Kütahya's place in this network. Finally, the center to be established in Ankara under the leadership of METU will bring together people and businesses that will develop technology in the fields of digital games, wearable technologies and digital film production.
Thank you very much, it was a great conversation for me.
Thank you very much for giving this opportunity.
"The second country in the world to export visual content"
▶As a country, our human resources and the hard work of our people make us stand out. Our conditions are difficult compared to people in other countries. What are you thinking?
Under this heading, Turkey has gained a serious competitive advantage in several sectors. The game, cinema and TV series industry are examples of these. As I recall from a presentation made a few years ago, Turkey is the second country that can export visual content to the most countries in the world, after the United States. This, of course, opens up important opportunities for us in terms of supporting this sector. A Cinema Investment Fund, such as the Real Estate Investment Fund, was established and operating in Turkey 4-5 years ago. With the advantages provided after the support decision taken by the Presidency, I predict that more financial resources will be directed to these areas.