İmamoğlu: Water transportation will be provided for 4.5 million Istanbul residents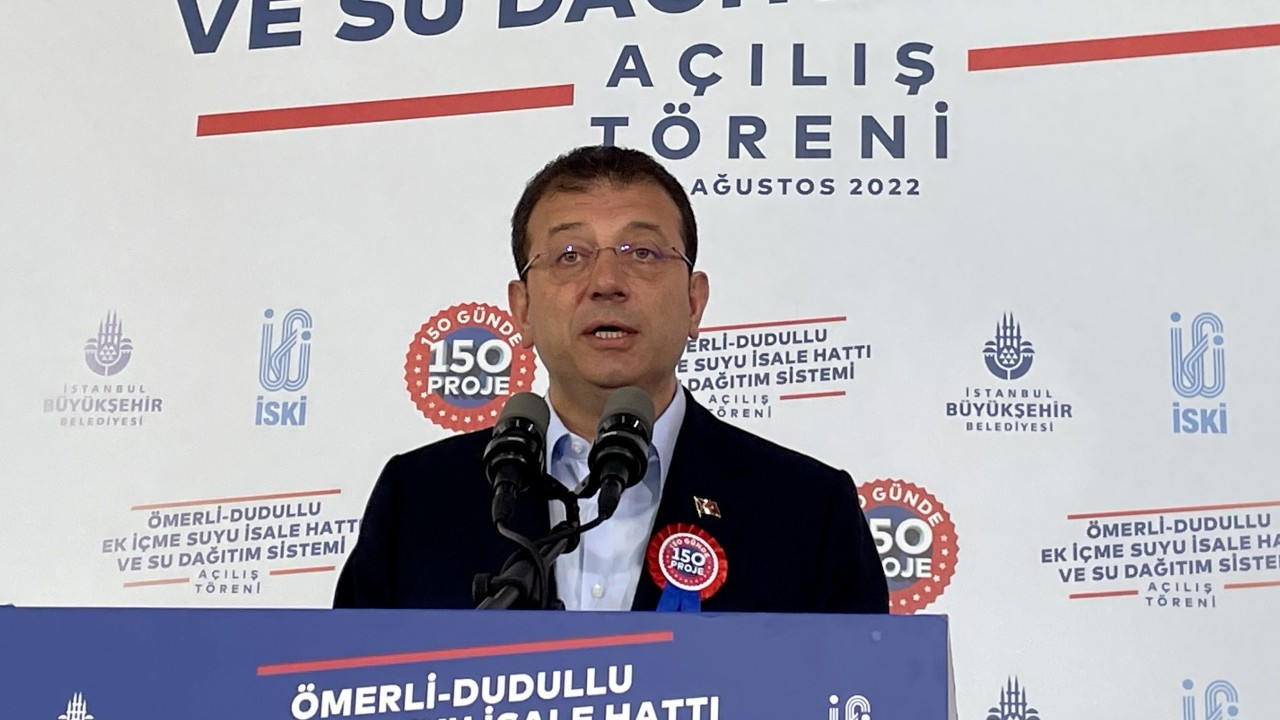 Istanbul Metropolitan Municipality (IMM) Mayor Ekrem İmamoğlu opened the new drinking water transmission line, which is approximately 15 kilometers long, between Dudullu and Ömerli.
Speaking at the opening ceremony, İmamoğlu said:
"In the '150 Projects in 150 Days' marathon, we implement projects that are developed on a rational and scientific basis in favor of Istanbul. We deal with the problems of the city in a holistic way, with the process well-analyzed, from costs and financing to tender and the subsequent follow-up, inspection and termination of the process. We receive the demands of our citizens at the beginning of the process. We walk the path with an understanding that maximizes social benefit and acts in the sense of the right investment. It is not focused on saving the day. There is no concern that we should make an election-indexed movement. There is no understanding that we should paint it. Plus, to whom is the task within the continuity rule. We manage the process in an absolutely transparent way, from the beginning to the end, until the next, when we hand over the flag, no matter what happens. We carry out the process with an understanding that has no unknown sides. This is how we look at the concept of a project. Therefore, the opening we made today is exactly the description of such a service.
I want to remind one thing here. This should be an important issue in the TGNA as well. The Melen process, which was announced to be completed in 2016 with the date and time, has now been 6 years, let alone the hour of the day. If we had not gone and visited that place, we understood in this process that Mr. President was not even aware of this. Because later, it was tendered again in February 2020 with a hasty process description. With an additional budget, a process for repairing and removing cracks was determined. But even then, we made serious warnings that the project was insufficient and could not solve the problem. In fact, we conveyed these warnings to the State Hydraulic Works, the Minister of Agriculture and Forestry of that time, and the relevant persons and institutions. It's not just me. Although our friend, the General Manager, who was on duty at that time, went back and forth with the Assistant General Manager many times, these warnings were not heeded.
"There is only a useless concrete body in the middle"
Tender done. Since the tender was made -about 1-1,5 months ago, unfortunately, our General Manager warned me that the tender was terminated, as per the circular, the contractors who could not exceed 15 percent were authorized to terminate, you know, unilaterally- it seems that even 15 percent has not been exceeded in 2 years. Because, according to the previous hearings, we were informed that unfortunately the project was insufficient, the project was insufficient, and the contractor warned the institution several times on this issue, that is, those who took the job at that time. When you look at it, I don't know how to calculate it, but maybe 10 billion dollars have been spent right now, there is only a useless concrete body.
"Melen is a complete mystery right now"
The recipe was: For the project, which was said to be completed at this time in 2016, before the 2019 elections, Mr. President said in Istanbul, 'We have solved the water problem of this city until 2071'. The Melen Dam, which is said to have solved the water problem until 2071, is currently a mystery. I don't know by what method, but we are already questioning it at the highest level. In fact, my friends are preparing a legal process about this right now. Because, according to the contract, the facility here will be transferred to IMM. We, as the people of Istanbul, will pay our state money.
"It was said, 'Go on bro'"
I would like to underline that it is an important issue to question this, discuss it at the Assembly level and conclude it. When you look at his past, when I listen to his past, almost maybe more than 10 years ago, the experts did not listen. There are texts and documents. Despite the fact that the contractor who did this work at that time had a letter saying 'This is a wrong method choice', he was told 'Continue bro'. Therefore, the contractor cannot even be blamed for the work he has completed. Because he warned. Those cracks are not a manufacturing defect. So warned the contractor. It's so painful. This is the result of blindness and the 'I know everything' mentality. I have friends here with past experiences. I have friends who have served the institution very deeply. I have a friend who was Deputy General Manager before us. He worked in the previous term but held a different position or served in a long time but left for a long time. He served as our General Manager in the past, served, his process is over, he has now retired. It was passed on to a friend. This is actually our mood, our view of people, the importance we give to experience; It is the equivalent of the value we give to reason, science, ingenuity and merit. 'No matter what office, let him come to office, do what I say; It is not the understanding of "Let him sign what I say". We listen to the experiences of people who have transferred their years there.
"If you manage the process with other concepts, you will have to say 'we betrayed this city'"
The most accurate decision is taken with a common mind, benefiting from the experience of the institution. If there is a step towards urban life regarding a political process, yes, we will show our will there. For example, to oppose Kanal Istanbul, which will endanger and threaten Istanbul's drinking water resources, waste 136 million square meters of land and lead to a population of 2 million. This is another dimension. But we respect the experience of our friends who exist in other technical issues. We carry out the common mind that emerges from there by proceeding with the budget and financing we have. This concept is very important in the will and administration of the country. I want to underline. If you do not comply with this, the name of the scene that will appear before you is a fiasco. Just like the fiasco in Melen Dam. Therefore, when you focus on rent and have an understanding of managing the process with other concepts, you will cause such permanent damage to your city that years later you have to say 'We betrayed this city'.
"We have the cheapest water tariff with a three-year ban"
While achieving all these investments and achievements, believe that although we are the institution that provides the most expensive water supply in Turkey, we are now an institution with almost billions of energy consumption and energy expenditures. Because we are flooding from miles away. Despite being such an institution, we have the cheapest water tariff among Turkey's metropolitan municipalities, with a three-year ban. Of course, in this period when we have people who can't even run their water at home due to the economic practices of the government, which is the cause of poverty, we are willing to sacrifice to contribute to the people of my city. In a period when hundreds of thousands of our people have to pay their bills – and this process is managed without offending anyone in the 'Pending Invoice' system – we also want to give the best price. But a job has a cost. You don't make a profit, you cover the cost. There are essential investments. But unfortunately we are blocked in this regard.
"With this project we put into service, 4.5 million Istanbul residents will be provided with water transportation"
With the project, which we put into service here today, with a cost of 875 million TL, water transportation will be provided for 4.5 and a half million Istanbulites. We are putting into service the project that will facilitate water transfer to the districts of Sancaktepe, Ümraniye, Ataşehir, Kadıköy, Üsküdar, Fatih, Zeytinburnu, Bahçelievler. We have implemented an important line to be used as a very important bypass line so that there is no interruption in case of failure.
"We wear boots first, not after the rain"
Right now my friend is dumping the last resource. It's show business, but let's put on that show. We don't wear boots after the rain, we wear boots before the rain. good luck. We will continue to provide such services. We will serve every point of our Istanbul. Our opening continues. Please continue to follow us." (ANKA)