İmamoğlu: We have created networks of assistance that touch more than 1.5 million households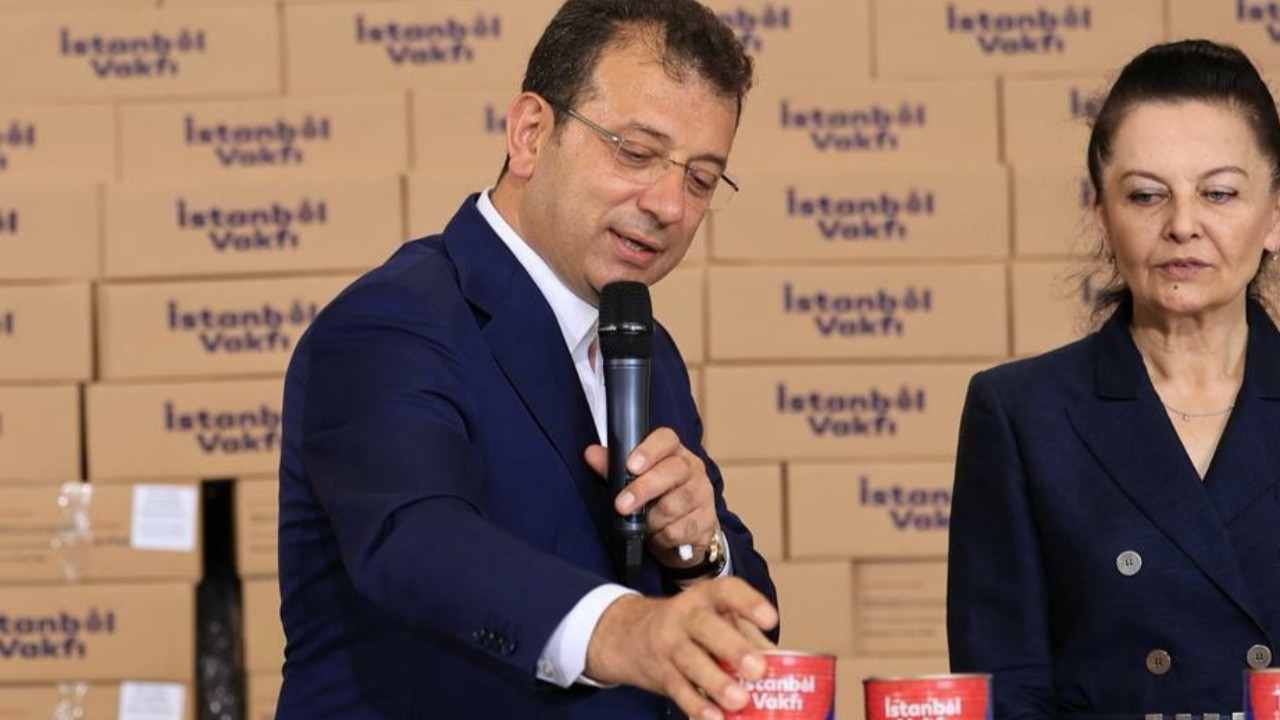 Istanbul Metropolitan Municipality (IMM), as it did in 2020 and 2021, organized a donation campaign with the online application method before the last Eid al-Adha. 12 thousand 85 donors participated in the campaign and became shareholders. In this context, 1,728 sacrificial animals were slaughtered. Roasted meat, head trotter soup, tripe soup and bone broth, canned meats were taken into a 21-day rest period. The canned food, which will be delivered to approximately 232 thousand families in need, has reached the warehouses of IMM in Zeytinburnu.
İBB President Ekrem İmamoğlu, together with CHP PM member Gökhan Günaydın, İBB Secretary General Can Akın Çağlar and Istanbul Foundation President Perihan Yücel, started the distribution of sacrificial animals.
Speaking before the distribution, İmamoğlu said:
"Today, we are meeting at a beautiful moment, the result of a long effort. Sometimes there are things that you do, when the result reaches this moment and afterwards, when you achieve such a precious mediation in making people happy, you really feel a great spiritual peace. At the moment, we, as IMM and Istanbul Foundation, are experiencing the peace of this process that we started. Turkey's biggest problem by far is the economy. Now, 80-85 percent of our citizens talk about their livelihood problems, not even being fed, or even not being able to get the emergency food they need. Unfortunately, this ratio reaches even greater numbers in metropolitan areas such as Istanbul. We have hundreds of thousands of families in Istanbul who do not have access to nutritious food that is healthy and develops people, especially meat on their tables. These are the real numbers, unfortunately, as a result of our determinations. Babies cannot reach milk. Unfortunately, children and young people in the age of development cannot reach these nutritious foods at home and on their tables.
"Why is Halk Süt, Suspended Invoice Needed"
We, as IMM, have been concerned about this problem since the first day we took office, and without saying, 'Economy is not the problem of the Metropolitan Municipality', we started to look for 'with which additional methods and how we can make greater contributions'. And our most important task today; We have implemented many solidarity projects with our different services in this field. Some of these are Halk Dairy, Suspended Invoice, Mother Card, Newborn Baby Package, Mother Baby Support Package, student scholarships and Kent Restaurants that we have recently launched. When you look at why there is a need for Halk Süt and why is it now reaching nearly 180 thousand children? Or when you look again today, why is there a need for the Suspended Invoice, which goes to 500 thousand invoices? The economic distress we talked about as of 2018 was also on the agenda in the local elections in 2019. And then the pandemic created a completely different problematic process in life. Unfortunately, the policies implemented in our country during this period left our citizens alone as much as possible. But, with the capabilities we have demonstrated in this process and the new applications we have mentioned, we have created networks of assistance that touch more than 1.5 million households, which we can now call 100 thousands.
"We fulfill our responsibility"
We have done all our practices here in accordance with our traditions, customs and beliefs. What was that? Of course, we succeeded in the process of helping each other with a system where the hand that gives does not see the hand that takes, and no citizen, no household, no child is ever offended. The religion of Islam advises solidarity, brotherhood, unity and solidarity. Therefore, in all these activities that we put forward with this understanding, which is a requirement of our religion, you are also witnesses that you can neither see a photograph nor see a moment when a citizen was offended for 3 years. I think this is very valuable. Because there is the following reality in our understanding of service: We fulfill our responsibility today. Of course, the rulers of the country have another responsibility. Ending poverty in the country. Of course, when poverty is over, then we will be talking about other things in our country. But if there is poverty today, we are the managers who have to contribute to the solution of this process.
"It will contribute to the development of our children"
Sacrifice cuts were carried out in accordance with Islamic methods. As you can see, here we get canned food from the slaughtered victims, we do roasting, and we also have tripe soup and bone broth. In other words, with the products we present here, we are not only making food for our people's homes, but also products that will contribute to the development of our children and families in that house. This is a labor process. It is a very meticulous work that took about 3-3.5 months with its distribution. We achieve this result by meticulously carrying out their religious duties on behalf of them, and by supporting them, perhaps without causing them to experience the difficulties they will experience.
"We have delivered canned food to 580,000 households in 3 years"
We have obtained a donation exceeding approximately 43.5 million liras. Today, we are putting our 232 thousand cans on the road and we will deliver them to our families. When we look at the past; We have delivered canned food to approximately 580,000 homes in 3 years. I can say that this has become a very valuable success, it has achieved its purpose. I see today that this will grow into a tradition and that this move we have started today will reach much larger numbers. I see that we have accomplished a very, very valuable job both in terms of making it easier for our people to worship and fulfilling what is necessary for today, which is a worship that is carried out mostly for the purpose of sharing the meat of the sacrifice. Right now, the meat donated by our thousands of people boiling in this can, maybe in the cauldron, will be distributed to 232 thousand households in a way that their taste will be mixed with each other, and our people will meet with that flavor. We are very very happy. Thank you to all our hard working colleagues. May God accept it both to those who forgive and to our dear compatriots."
After the speech, İmamoğlu and the accompanying delegation loaded the first cans to be delivered to the needy people of Istanbul on İBB vehicles. (PHOENIX)