International Istanbul Open Chess Tournament has ended
AK Party Istanbul Deputy Abdullah Güler, Fatih Mayor Mehmet Ergün Turan and Turkish Chess Federation President Gülkız Tulay attended the award ceremony held at Atatürk Çağdaş Yaşam Sports Hall where the tournament took place.
Abdullah Güler, who made a speech after the medals, cups and badges were given to the athletes, stated that he was very pleased to participate in this international tournament and said, "I am pleased that our families direct their children to this sport. Chess seems to be played by hand, but it is actually a special sport played with the mind and mind. "I would like to thank the families who are interested and curious. I wish our athletes continued success." said.
Fatih Mayor Turan explained that the tournament lasted for a week and that a great organization took place, "It was a different experience for us and for chess lovers alike on the historical peninsula. Chess is a sport that can be enjoyed by all age groups. It is a game played with both hands and intelligence. And I hope we will meet next year at a festival with more participants in a bigger venue." used his statements.
Turkish Chess Federation President Gülkız Tulay stated that they attach great importance to the continuation of international open tournaments as a federation.
Tulay said that they organized a tournament in which 750 athletes, 46 of whom were titled, from 21 countries participated, said, "This is very valuable for the development of chess, for our federation. Of course, getting the promise of the tournament next year from the mayor was the most valuable award for me. May this tournament develop and continue. " made its assessment.
FIDE Award to IA İsmet Arvit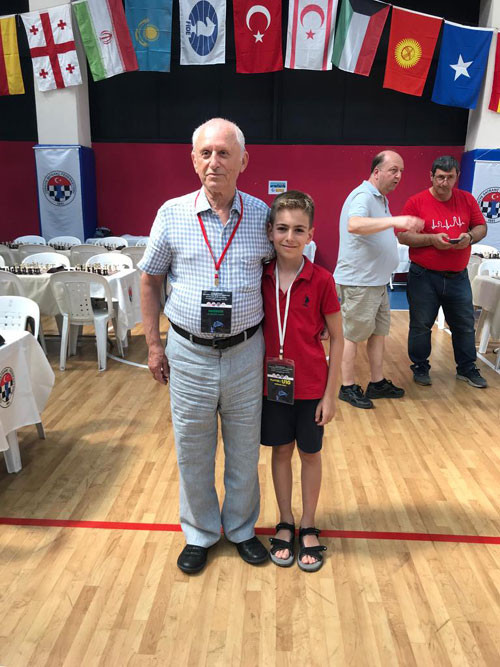 At the ceremony, IA İsmet Arvit, one of Turkey's first international referees, was presented with the 2022 FIDE Referee Award.
İsmet Arvit, who has been holding the title of IA for nearly 40 years and has served in many international tournaments such as the Chess Olympiad, was awarded the "2022 Referee Award" by the World Chess Federation (FIDE) Referee Board.
Tournament and prizes
A total of 750 players from 21 countries and 49 provinces, 46 of them with titles, participated in the International Istanbul Open Chess Tournament, organized in cooperation with Fatih Municipality and Turkish Chess Federation.
Awards were presented to the athletes of the 7, 8, 10 and 14 age categories, the visually impaired, the most successful veteran, the most successful 12 and 18 years old, the most successful female athlete, the 2000-2200 rating success, and the most successful Turkish athlete categories, who were successful in the tournament. presented by the participants.
At the end of the ceremony, successful athletes and award-winning participants took a group photo.