Malmo FF: 3 – Sivasspor: 1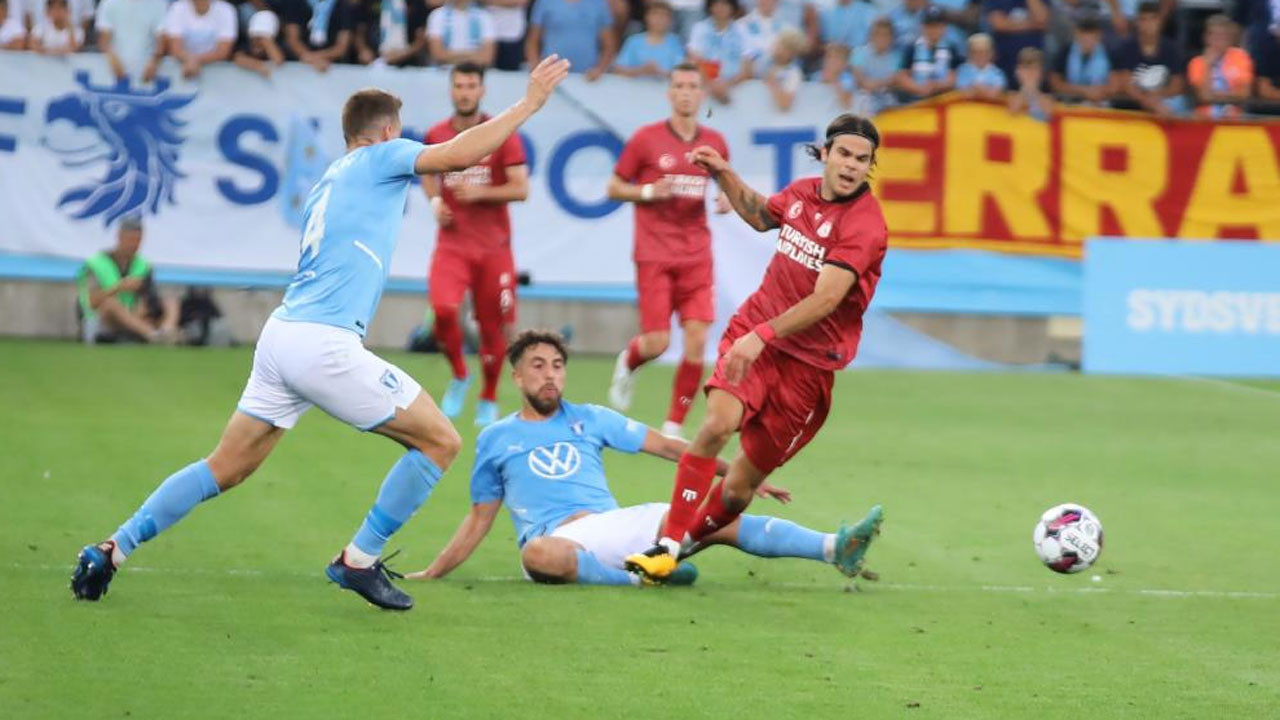 Birmancevic, who met the ball on the left side of the penalty area in the 4th minute, dragged the ball into the penalty area and shot, the tp remained in the side nets.
In the middle of Birmancevic's penalty area in the 18th minute, Zeidan brought the ball to the nets. 1-0
Zeidan, who met with Thelin's pass in the 23rd minute, targeted the goal for the second time, but the ball narrowly went out of the base.
In the 30th minute, in the middle of Uğur's penalty area, in front of the castle, James sent the ball into the net with his head. 1-1
In the 38th minute, Chnistiansen's free kick from outside the penalty area went into the net. 2-1
In the 54th minute, Gradel's pass in the penalty area was touched by Kerem and the ball remained in Dalhin.
In the 68th minute, Malmö's corner shot returned from Thelin's defense. Moisander sent the spinning ball into the nets. 3-1
In the 75th minute, N'jie's shot narrowly went out in Yatabare's pass inside the penalty area.
Stadium: Malvo (SWE)
Referees: William Collum xxx, David McGeachie xxx, Francis Connov xxx
Malmö FF: Dalhin xxx Nielsen xx, Hadzikadunic xx, Moisander xxx, Beijmo xx, Ceesay xxx, Zeidan xxx (Lomotey min. 72 xx), Competitor xx (Pena min. 72 xx), Chnistiansen xxx (Larsson min. 85 ?), Thelin xxx (Berget min. 88 ), Birmancevic xx
Subs: Diawara, Knudsen, Chaluc, Toivonen, Turay, Sejdiu, Andersson
Coach: Andreas Georgson
Sivasspor: Muammer xx, Goutas xx, Caner xx, Robin Yalçın xxx (N'jie min. 76 xx), Uğur xxx, Ulvestad xx (Yatabare min. 73 xx), Kerem xx (Charisis min. 60 xx), Hakan xx ( Keita min. 83 ?), Erdogan xx, James xxx, Gradel xxx
Substitutes: Emre, Ali, Appindangoye, Ziya, Cofie, Angielski
Coach: Rıza Çalimbay
Goals: Zeidan (min. 19), Chnistiansen (min. 38), Moisander (min. 68) (Malmö FF), James (min. 30) (Sivasspor)
Yellow Cards: Opponent, Lomotey (Malmö FF), Robin Yalçın, Gradel, Goutas, Yatabare (Sivasspor)