The bells are ringing for the big four
Barış ERKAYA / EXCHANGE ANALYSIS
The league has started. Transfers, discarded players, new stars and first two weeks performances were also seen. But regardless of the performances on the pitch, it will be the financial performance of Turkish clubs that will determine the league's long-term destiny. Because it will be the financial situation of the clubs that will determine the transfer limits and the performances to be shown in the European cups in the future. Along with the first half financial statements of the listed companies, the May financial performances of football clubs and Spor A.Ş. were announced. And unfortunately, the scenery does not look heartwarming at all.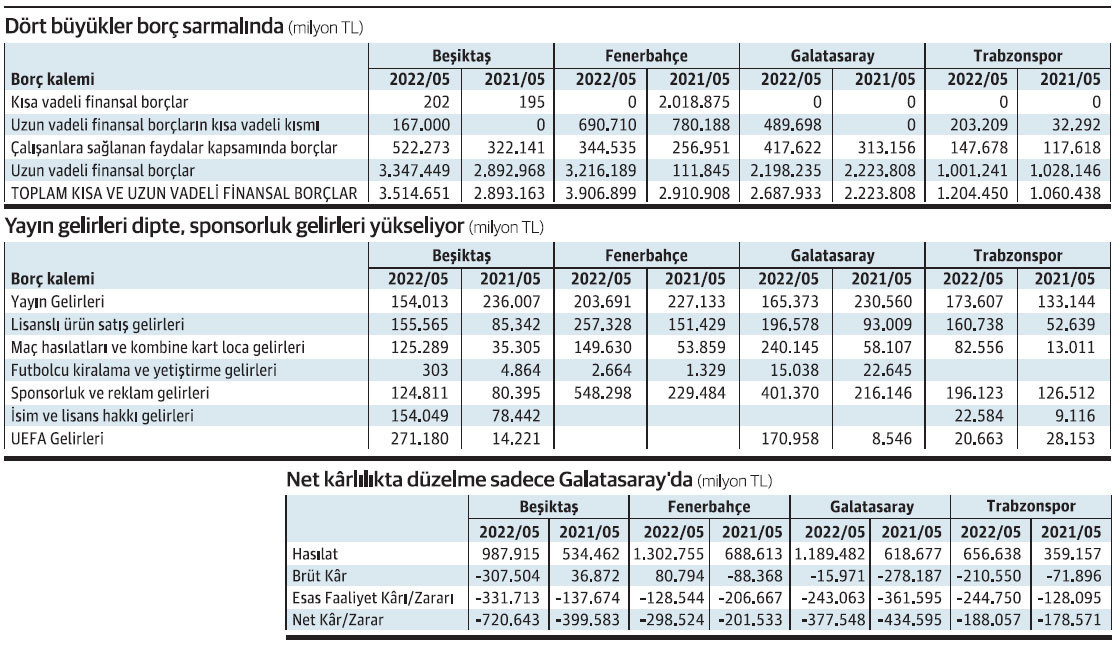 HIGHEST CASH IN FENERBAHÇE AND BEŞİKTAŞ
It seems that Fenerbahçe was the club that entered the league with the highest cash. Fenerbahçe, which closed the month of May 2022 with 139 million TL cash in its vault, was followed by Beşiktaş with 134 million TL cash. Galatasaray, on the other hand, opened the season with a cash amount of 5.5 million TL in May this year against 160 million TL in cash in the same period of last year. The amount of cash in Trabzonspor's safe was around 21.5 million TL. Of course, not all of the cash in the clubs' safes is usable. Because there are parts that are blocked against their debts. For example, this figure is 9 million TL for Beşiktaş, 31 million TL for Fenerbahçe, 1.5 million TL for Galatasaray and 523 thousand TL for Trabzonspor. On the other hand, Beşiktaş's demand deposit accounts hold 106 million TL in foreign currency and 28 million TL in TL. The money in Fenerbahçe's demand deposit accounts is close to 140 million TL. Galatasaray has 23 million TL in demand deposits and 32.5 million TL in time deposits. The total amount of money found in Trabzonspor's time and demand deposit accounts is just over 17 million TL.
TOTAL DEBT REACHES 11.3 BILLION TL
Now let's come to the point where the calf's tail breaks off in the balance sheets. I mean, the debts part. With the Banks Association agreement, which the Big Four said, "It took a breath," the short-term financial loans of the Big Four were reset. But the bank debts that he will pay in the next 12 months are not at all zero. For example, the bank loan that Beşiktaş will pay within 12 months is 167 million TL, Fenerbahçe's 691 million TL, Galatasaray 490 million TL and Trabzonspor 203 million TL. Here, the club that the agreement relaxes the most is Fenerbahçe, which is facing a short-term bank loan payment of 2 billion TL as of May 2021, but whose short-term bank loan installment to be paid within 12 months was reset with the agreement. Most of the loan payments to be made this year and until the half of next year consist of interest payments. Although the Banks Association agreement appears as a no-payment agreement in the first year, interest payments are also striking. In addition, another serious handicap of extending the debt over the long term appears in the following items.
Beşiktaş's short and long-term total bank loan debt increased by 21 percent from 2.9 billion TL to 3.5 billion TL, Fenerbahce's from 2.9 billion TL to 3.9 billion TL with an increase of 34 percent, and Galatasaray's with an increase of 21 percent from 2.2 billion TL. From 1 billion TL to 2.7 billion TL, Trabzonspor's has increased by 14 percent from 1 billion TL to 1.2 billion TL. A financial debt of 11.3 billion TL in total. Language is easy. Moreover, as far as past experiences show, these debts will be tried to be paid with financial structures that produce losses, not projects.
And with what income?
The revenues of football clubs, whose revenues fell to the bottom due to the pandemic, entered a rapid increase trend in the period of 2022/05. While Beşiktaş generated revenues of around 1.3 billion TL, Fenerbahçe and Galatasaray 1.2 billion TL, the revenues of the last champion Trabzonspor increased to 867 million TL. Compared to last year, the fastest revenue increase is in Beşiktaş (160 percent).
When we look at the bottom breakdown of revenues, the most striking point is the bottoming out in broadcasting revenues. Except for Trabzonspor, the champion of the last season among the big four, there is no one who has not experienced a decrease in broadcasting income. The broadcasting revenues of Beşiktaş decreased by 35%, Fenerbahce by 10 percent and Galatasaray by 28 percent. Although there is a very serious increase in the revenues of the match proceeds and the combined card, this is nothing but an illusion. It only shows the return of the limited number of spectators who came back to the stadiums that were closed due to the pandemic in the previous season.
Here, sponsorship and advertising revenues are the only income items that show a steady and significant increase for the Big Four. The revenue of the Big Four from sponsorship, advertisements and name and license rights doubled from TL 731 million to TL 1.4 billion. Fenerbahce is the club that achieved the highest increase in this item last year. Compared to last year, the increase is 139 percent. Galatasaray follows it with an increase of 86 percent. Trabzon and Beşiktaş seem to have achieved an increase of 55 percent each.
There is an unavoidable increase in the expense item. Last year, the Big Four, who paid a total of 1.7 billion TL to football players, technical team, managers and other personnel, increased this figure to over 3 billion TL this year. The club that faced the highest wage increase was Beşiktaş with an increase of 203 percent, followed by Trabzonspor with an increase of 98 percent. Fenerbahce kept wage increases limited to 59 percent and Galatasaray to 18 percent.
THE ONLY CLUB GALATASARAY WITH NET DAMAGES DECREASED
Revenue minus expenses equals profit. Simple equation. So what's the deal with this equation? All of the big four, without exception, are companies that independent auditors give qualified opinion. The most important reason for this is the "suspect of being in debt". At least that's what the auditors wrote. A stable and satisfactory income projection is required in order to get out of this debt bankruptcy. So, are the clubs able to generate profits to cover this?
Fenerbahce was the only company among the big four that could generate a gross profit. It is followed by Galatasaray, which reduced its 278 million TL gross loss last year to 16 million TL in terms of performance. While Beşiktaş turned 307 million TL from gross profit, Trabzonspor's gross loss increased to 210 million TL. Losses in the main activity, namely football activities, were again only reduced in Fenerbahçe and Galatasaray. In Beşiktaş and Trabzonspor, on the other hand, the losses from football activities are growing.
And when net financing, that is, losses from loans, is added to these, there is only one club among the big four whose net loss has improved: Galatasaray. The annual net loss of the Big Four has reached 1.6 billion TL in total. In other words, the cases that are already negative are getting more and more negative.
ASSIGNMENT UP TO 5 TO 13 TIMES OF INCOME
Broadcasting revenues, licensed product sales, match revenues, combined card sales, football player training and rental revenues, Turkish Cup, sponsorship and advertising revenues, naming rights and licensing rights revenues, UEFA cup participation and performance revenues or transfer revenues from outsourced football players, all 4 billion TL. So most of this income goes to wages. Moreover, there are assignments on the incomes of these clubs, ranging from 5 times to 13 times their annual income. There is an assignment of 12 billion 860 million TL over Beşiktaş's broadcasting revenues and 699 million TL over its naming rights. The assignment on Fenerbahçe's broadcasting revenues is 14.8 billion TL, and the assignment on the naming rights is 498 million TL. Galatasaray's income under assignment is 5.5 billion TL. The total amount of assignment in Trabzonspor is 5.9 billion TL. In other words, there is a total assignment of 39 billion TL above the incomes of the Big 4 in the coming years.
STAR PLAYER TRANSFERS BEAUTIFUL OR CLUBS' SALARY BUDGETS
Now let's come to other future expenses, which we, as fans, do not think much about while watching and waiting for transfers from presidents and administrations. While every fan expects their favorite team to fill their roster with star players, they lament the management when the opposing team makes big transfers. But nobody cares about the football player, manager, testimonial expenses that need to be managed on the financial side of the business and growing like an avalanche. The phrase we hear frequently on social media lately is this: What's wrong with me, I'm a fan, does it come out of my pocket? Every football enthusiast should think about whether there will be a team to keep in the future after what they will read now. Fenerbahce, Trabzonspor, Galatasaray announced the guarantee fees to be paid to the players over the next 4-5 football seasons. We could not find this item in Beşiktaş' balance sheet.
FENERBAHÇE EXCEEDS 1.2 BILLION TL IN 5 SEASONS
Let's start with Fenerbahce first. The total guarantee fee that he will pay only in 2022-2023, that is, in the current season, has increased from 433 million TL last season to 569 million TL this season. The total guarantee fee he will pay in the next 5 seasons is 1.2 billion TL. Moreover, these figures are before transfers such as Jorge Jesus, Joao Pedro, Luan Peres. Adding these three names that came after the statement of the balance sheet and deducting the annual fee paid to this name due to the fact that Kim Min Jae was sent on a testimonial, the total guarantee fee to be paid in the next 5 seasons increases to 1.34 billion TL.
GALATASARAY ENDS TO 1 BILLION LIMIT
The balance sheet of four seasons in Galatasaray was written. This figure has decreased from 290 million TL in the previous season to 284 million TL this season. But of course, this figure is misleading. Because Ryan Babel shows data from high annual paid contracts like Sofian Feghouli, but does not include new incoming transfers. For example, when we add the arrival of names such as Okan Buruk, Abdülkerim Bardakçı, Kazımcan Karataş, Sergio Oliveira, Seferovic, Leo Dubois, Midtsjö, Lucas Torreira, Dries Mertens to these numbers, and subtract the departures of names such as Marcao, Diagne, Mostafa Mohamed, Aytaç Kara, Morutan, Galatasaray's the total of the four-season guarantee fee payments reaches 982 million TL.
THE STORM COST OF THE CHAMPION SQUAD
In Trabzonspor, on the other hand, the cost of establishing a championship squad seems quite striking even in the current data. Trabzonspor, which started with a guaranteed fee of 594 million TL at the beginning of the 2021 season, reached a budget of 927 million TL in the same period this year. If we look at what happened next: Denswill, Eren Elmalı, Doğucan Haspolat, Jens Stryger Larsen, Trezeguet came. Cem Akpınar, Diabate, Kouassi, Erce Brothers, Flavio, Yunus Mallı, Abdülkadir Finger, Batuhan Kör, Berat Özdemir went. As a result, Trabzonspor's annual guarantee fee payment has reached 1 billion 150 million TL. The method of Trabzonspor regarding the managers in the new player agreements is also very interesting. Trabzonspor agreed to pay the players' payments to their managers, 5 percent of the annual wages that the football player will receive from Trabzonspor as a manager's fee. In other words, as the football player's salary budget grows, the money to be paid to the managers also grows. In addition, there are many transfers made after these balance sheets are prepared and published. These are not included in these calculations. Moreover, the transfer season is not over yet. Galatasaray, Fenerbahçe, Beşiktaş, Trabzonspor fans dream of Belotti, Icardi, Maxi Gomes, Dembele, Shomurodov, Hakim Ziyech, Amiri. Even if a few of them come, there will be an annual 10-20 percent increase in salary budgets. Even worse, these figures only include warranty fees. So, for example, the bonus payments to be made to the clubs of the transferred players, the per-match bonuses to the players have not been added yet. We will see the results of these in the balance sheets of May 2023. Currently, the total guarantee fee budget of Trabzonspor, Galatasaray and Fenerbahçe is 3.5 billion TL, including the upcoming seasons.